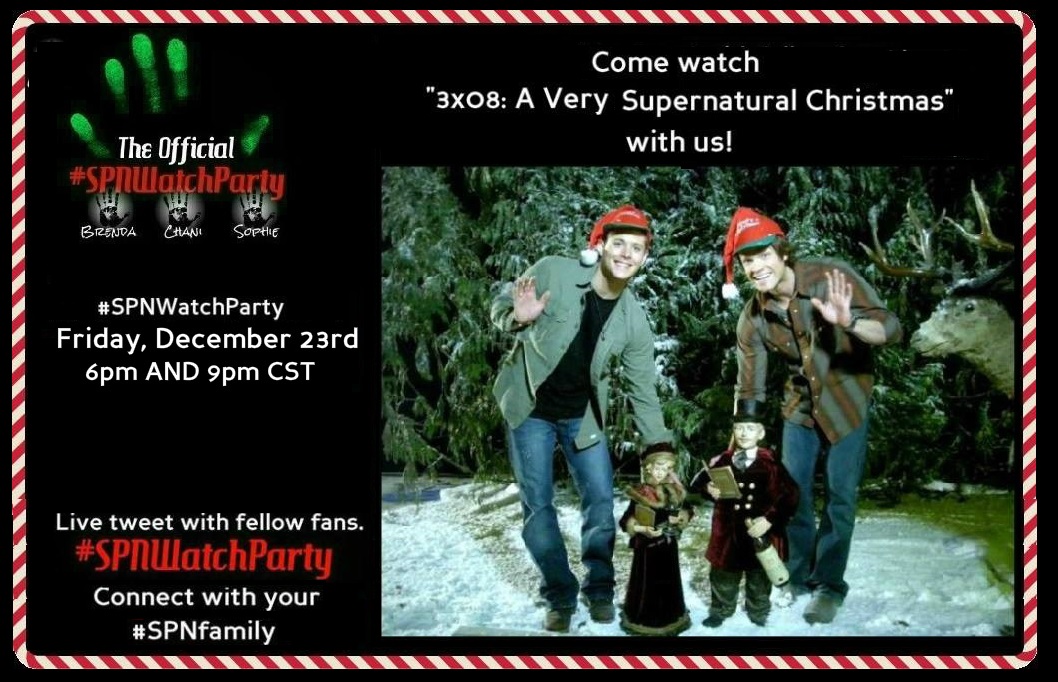 ---
Return to Top
| Timezone | City/State/Area example | Time: 1st showing &nbsp | Time: 2nd showing |
| --- | --- | --- | --- |
| PST/Pacific | San Francisco USA | Fri 4:00 PM | Fri 7:00 PM |
| MST/Mountain | Denver USA | Fri 5:00 PM | Fri 8:00 PM |
| CST/Central | Chicago USA | Fri 6:00 PM | Fri 9:00 PM |
| EST/Eastern | New York USA | Fri 7:00 PM | Fri 10:00 PM |
| | Brazil/Rio de Janeiro | Fri 10:00 PM | Sat 1:00 AM |
| GMT | London | Sat 12:00 AM | Sat 3:00 AM |
| | Stockholm | Sat 1:00 AM | Sat 4:00 AM |
| | Moscow | Sat 3:00 AM | Sat 6:00 AM |
| | Hong Kong | Sat 8:00 AM | Sat 11:00 AM |
| | Tokyo | Sat 9:00 AM | Sat 12:00 PM |
| | Sydney | Sat 11:00 AM | Sat 2:00 AM |
| | Vancouver | Fri 4:00 PM | Fri 7:00 PM |
See other times
For the 1st showing!, check
here!
For the 2nd showing, check
here
!
Return to Top
A group of friends got together wondering how they would survive 2013-2014 Winter Hellatus. What to do on Tuesday nights? So used to watching Supernatural, live tweeting, the feeling of communing with the #SPNFamily... Without it all would be wandering the lonely channels, endlessly surfing.
Until the wise Sophie piped up with a brilliant idea... "Let's pick an episode each week to watch! We can vote for which one we want to see, and then tweet to let others know in case they want to join us. We can live tweet, and have fun. A Hellatus survival night?
---
I own nothing but the design layouts. Supernatural Images used here are property of the CW Network, I did not take these wonderful pictures. They are used for entertainment purposes only, not for profit. To show my appreciation of the show, and to set the images to words that touch my heart or make me smile. Hopefully they do the same for others.